About Whole Family Chiropractors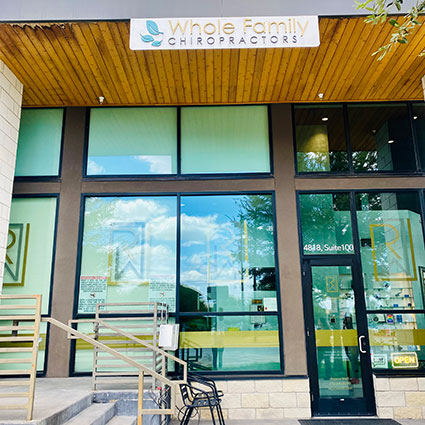 Our Mission
At Whole Family Chiropractors, we are committed to helping patients achieve true health and wellness through our whole-body approach to care. Our mission is to provide boutique custom chiropractic care to the whole family, with amazing customer service. We want everyone who walks through our doors to know that we are here to help.
We genuinely care about you, and we want to help you get the most out of life by improving both how you feel and how you function. We take considerable time to listen and truly understand your situation and how it is impacting your ability to enjoy life to the fullest.
Our comprehensive wellness, regenerative and restorative health solutions help patients from pregnant women to newborns through the elderly function optimally. We offer education and coaching to empower you to make the best decisions for yourself and become self-sufficient regarding your own health.
Our History
Dr. Michelle Paris started Whole Family Chiropractors in 2009 from the ground up.  She created a warm, welcoming, one stop chiropractic practice for the community of Austin and Mueller in particular. She has helped countless Austinites over the years and has passed the torch to Dr. Merrick Fisher.   After graduating from Parker University in Dallas, Dr. Merrick Fisher has practiced in Austin since 2009. She joined Whole Family Chiropractors in 2015 and is the practice owner as of 2022. She grew up in Oklahoma and fell in love with Austin and the health-oriented, proactive mindset of people in the community. She enjoys going on patients' health journeys along with them, and giving them the tools to make the most of their lives.
In our serene, calming Mueller office, we offer nutrition advice and cryotherapy, in addition to chiropractic and massage, and all of our equipment is state-of-the-art.
MEET DR. FISHER
Holistic Care
We provide you with the best whole-body care possible. Patients come to us when they're in pain from an accident or injury, when they're looking to optimize athletic performance, or when they decide to take a proactive approach to their own wellness. Some common conditions we see include
headaches
neck pain
low back pain
hip pain
knee pain
elbow/wrist pain
ankle/foot pain
shoulder pain
TMJ dysfunction
Schedule Today
Contact us today to book an appointment. We are in-network with most insurance plans and can usually accommodate same-day appointments.

About Whole Family Chiropractors | (512) 505-8500