Chiropractic Care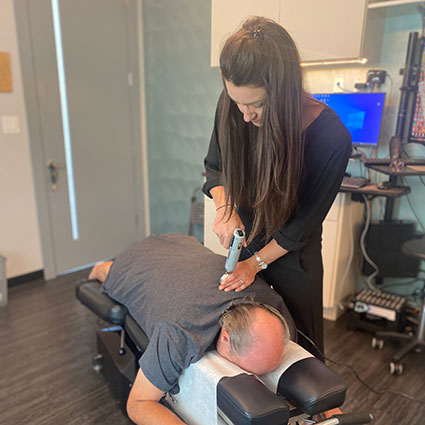 Dr. Fisher may select one or more of several different manipulation techniques including Diversified, Chiropractic BioPhysics®, Flexion-Distraction, Activator®, Neuromechanical Impulse, Drop Table, OTZ, and/or Sacro Occipital Technique®. All are designed to relieve pain, restore function, promote biomechanical optimization, establish stabilization and encourage normalized function.
There are three stages of care you will progress through at Whole Family Chiropractors.
Acute Care
Goal: Pain relief, restoration of motion.
Treatment is often initially sought due to either an injury or a longstanding pain. The goal of this phase is pain relief and restoration of structure and function. Though there is no one type of case, typically treatment during this phase requires 1-8 weeks of care depending upon the severity and longevity of the injury.
Restorative Care
Goal: Continued pain relief coupled with restoration of function.
Once your pain has been eliminated, you can choose to discontinue care. We honor your wishes and respectfully welcome you back at any time. Ideally, we like to begin working on restoring function and proper biomechanics to your body to increase adaptability and prevent future injury and pain. Simple postural correction with exercises and an additional 4-8 weeks of treatment is usually needed.
Wellness & Protective Care
Goal: Continued optimization of structure, form and function. Or, keeping what you've got!
This type of care is designed to keep your body optimized or to slow progressive degeneration. For people who already have some degenerative changes or permanent biomechanical compensations, this treatment is designed to prevent further degeneration. Sometimes, it's possible to arrest the deteriorating physiological process. Other times, all we can do is slow down the process or minimize physical discomfort.
Regardless, we want to protect the work we have accomplished. We see some people (professional dancers, golfers or heavy laborers, for example) once or twice a week. Others need us as infrequently as every six months. The average wellness patient gets cared for approximately every 2-4 weeks. Of course, if someone takes up a new activity, we might see them a bit more often until their body adjusts to the additional demands placed upon it. And it is not uncommon to see wellness patients after an unusual week such as traveling, camping, the first spring gardening marathon or remodeling a bathroom.
Get Started
To schedule your appointment, contact us today! We have a Spanish-speaking doctor and staff.
CONTACT US

Chiropractic Care | (512) 505-8500