New Patients at Whole Family Chiropractors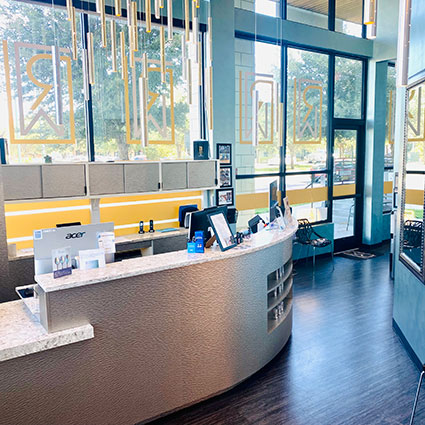 Our caring, kind team consistently get rave reviews from our happy, satisfied patients. You'll find that we're a modern, high-tech paperless office designed to be soothing from the moment you enter.
NEW PATIENT FORMS

Why do so many residents of Austin choose us?
RESULTS: When you are considering chiropractic care you want a doctor who delivers results. As a team we will establish your goals set on a timeline to achieve just that. When our patients adhere to this plan we see great results time and time again! If not, no need to worry what you will do next. Referral to the appropriate medical professional will be given.
TRUST: Our patients return time and time again because of the trust we have established. They know we have their best interest at heart and that's why they continue to refer their friends and family to our office.
CONVENIENCE: We understand you are busy with family, work and activities which is why we offer late and weekend hours. You can count on our office to make your appointments quick and easy. If you are tired of finding yourself sitting hours in a waiting room our office is for you. Many patients even come on their lunch hour.
The examination process takes about 40 minutes. It includes a complete orthopedic and neurological evaluation and often, digital X-rays. Our low-radiation machine can objectively show what structural problems exist and are essential to determining the appropriate treatment. We put the images onto a CD or email them to you so you have a permanent record to share with your family or other doctors.
Sometimes, the exam reveals symptoms that warrant a referral to another specialist for additional evaluation. Though most straightforward musculoskeletal conditions do not require such testing, your chiropractor may decide that blood labs, an MRI, CT scan, ultrasound or other diagnostic tests are advisable. If testing or referral is required, we'll refer to someone we know as the best in their field and will continue to monitor your overall case. We consistently update, upgrade and maintain a group of specialists with whom we can text directly to request consults or status updates.
After the exam is completed and the results of any additional tests, if required, have been received, our chiropractors will provide you with a report of findings. This visit, typically the 2nd visit, provides, a clear explanation of your specific case, condition, treatment options and prognosis. This meeting is an opportunity for you to ask questions you may have to clearly and fully understand your treatment plan.
A typical treatment will usually consist of a chiropractic adjustment, intersegmental traction, therapeutic exercise and possibly electrical stimulation. During the adjustment, you may feel or hear popping, which is caused by the release of pressurized nitrogen gas being released from synovial joints not bones cracking! Our chiropractors are trained to gently release this pressure in a variety of ways. There is no one technique that is best for everyone, so each treatment plan is tailored to an individual's condition and preferences.
You may also receive one or more physiotherapeutic modalities: ergonomic training, home exercise and stretching routines, range of motion techniques and more. The modalities we use include heat, electrical stimulation, clinical manual therapy (specific massage therapy techniques) , intersegmental traction, inversion, taping, splint management and education. Often, we will email exercises to you for your specific condition. When appropriate, topical pain analgesic patches or instructions may be given to facilitate the use of a chosen technique.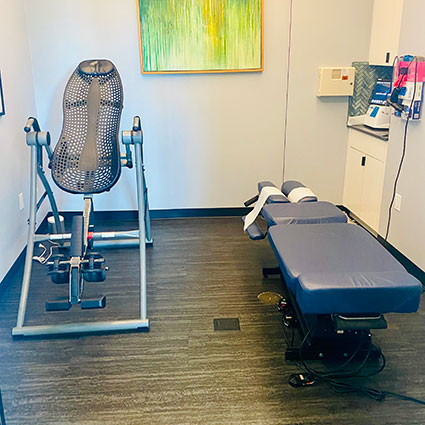 What You Can Do to Help
As a total wellness provider, Whole Family Chiropractors offers you opportunities to become involved in your own health care beyond the specific pain or discomfort which may have initially brought you to see us. We often instruct patients in home and health club exercise and stretching or strengthening programs designed to optimize biomechanical movement. Fitball®, Theraball, Feldenkries rolling and Therabands® are often used to enhance core muscle strength and flexibility. Whenever possible, we attempt to teach exercises that require no specific equipment whatsoever.
Neuromechanical Impulse adjusting, Activator and Prone Specific offer low or non-force techniques that allow joints to experience a full range of motion without 'popping' or any discomfort.
Designing Workout Programs
Dr. Fisher is well versed in strength and endurance training involving free weights, fitness machines, Pilates, Yoga and non form-specific exercise. She often works with personal trainers to design specific programs for athletes and patients. Cardiovascular and flexibility training are important adjuncts to any fitness program.
Considering Your Nutrition
Diet and nutrition often complete the general wellness profile given to a patient. Complex cases due to prior injury, however, or competitive athletic performance cases, may include additional integrative therapies or wellness components. Recommended and helpful nutritional supplements are available at a discount via Fullscript.
Get Started Today
Contact us today to learn more or book your appointment! Insurance coverage can be used for your visits.
CONTACT US

New Patients at Whole Family Chiropractors | (512) 505-8500