Meet Dr. Merrick Fisher
Discovering the Natural Path to Health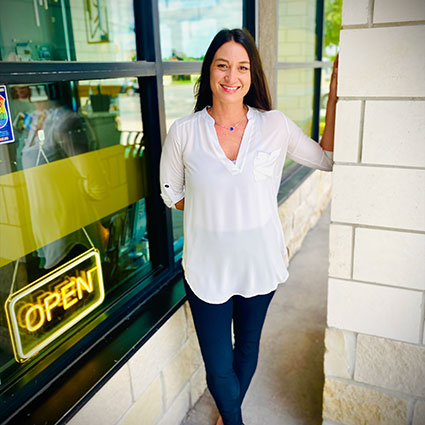 Dr. Fisher grew up in Edmond, Oklahoma and earned her B.A. in Psychology from the University of Oklahoma. Initially, she wanted to be a clinical psychologist and started looking at graduate schools when she stumbled upon the Parker University website. With a father who is a medical doctor that refers his patients to chiropractors, she asked him what he thought of this potential career choice. He encouraged her to further investigate, so she shadowed a local chiropractor and fell in love with natural health care.
To earn her Doctor of Chiropractic degree, Dr. Fisher went to Dallas and attended Parker University. Immediately following graduation, she moved to Austin and began practicing. She joined the Whole Family Chiropractors team in Mueller and enjoys promoting and sharing the effectiveness of chiropractic care. Her patients find her gifted, genuinely caring, sharp, friendly, and a first-class adjuster. She is thrilled to be able to contribute by working at Whole Family Chiropractors with the team.
EXPLORE OUR SERVICES

Outside the Office
When she isn't at the office, Dr. Fisher enjoys spending time with her husband, 7 year-old son Omar, and 4 year old Xavier, watching live music and theatrical shows, running and lifting, playing the piano and caring for her cat DeeDee.
Get Started Today
To find out more about what we may be able to do for you, contact our office today!

Dr. Merrick Fisher | (512) 505-8500